EDLounge has a prestigious background in digital and creativity delivery via bespoke education technologies that are blended and flexible.
Our Aims
EDLounge aims to:

Be an outstanding teaching and learning provider that delivers high-quality educational learning and training.
Provide blended and flexible training that has the learner and employer at the centre of everything we do.
Create a digital and innovative curriculum that works in partnership with our employers, clients, learners and staff to help enhance their skills, knowledge and performance.
Utilise digital technology to interact, learn, focus, and progress all learners throughout all our learning platforms.
Our Objectives
We will achieve this by:
Delivering excellent teaching and learning to create a sector-specific curriculum.
Enabling our customers to access flexible, digital and enhanced learning resources for teaching, delivery, quality assurance and management.
Continually meet our customers' training and work-based learning requirements.
Providing high-quality technical and learning opportunities for our customers, staff and associates.
Offer hybrid and personalised learning for each learner that is tailored to their specific needs.
Upskill and train all learners, staff and employees with flexible learning support and within work or study patterns.
Using technology to break down barriers to learning for all learners with good intent via our curriculum and delivery of quality training.
Collaborate with local businesses that want to use our digital tech to enhance delivery, efficiency and growth through giving value-added and additional wider skills and qualifications for the learners and employers.
We have made it a conscious and strategic decision which is that to further make a positive contribution to adult learning, work-based development and life opportunities in a post-pandemic Britain our provision has to be learner-centred, employer-focused, business-critical and digitally-led by us.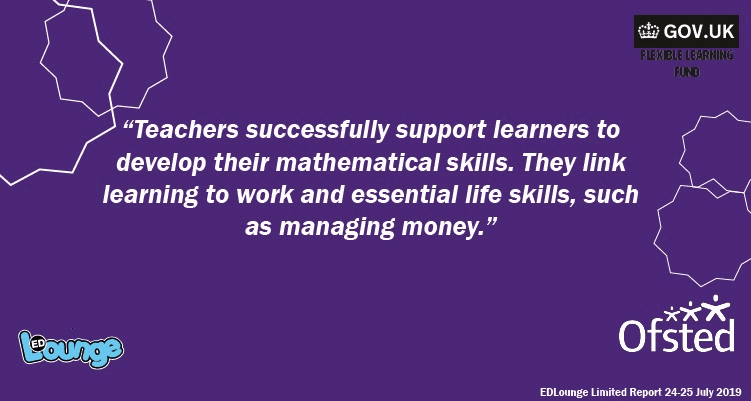 You can read the full Ofsted report here.

About us and our history
EDLounge Ltd is based in Dinnington near Sheffield and our focus and aim from the very beginning was to be an online flexible learning provider. Whilst delivering courses directly and delivering over 3,000 qualifications, EDLounge has seen considerable growth in its; online business, capabilities and product development. EDLounge has delivered successful programmes for adults who have encountered difficulties in their past education as part of a pre-employment programme as well as delivering work-related qualifications.
In 2017 EDLounge was accepted onto the Register of Training Organisations (ROTO) which provided the opportunity to become involved in delivering government-funded learning programmes using the EDLounge experience of blended and online learning.
In May 2017 we qualified to become a Registered Apprenticeship Training Provider (ROATP).
In 2018, EDLounge became 1 of 32 Training Providers across the UK chosen to become a Prime Funder and provider, delivering online/blended education through the Flexible Learning Fund (FLF) Pilot project, which was launched that year. The objective of the FLF Pilot was to develop flexible and accessible methods of teaching delivery for adults, through a combination of traditional classroom teaching, along with online distance learning. This would create a flexible learning experience, with learners provided access to 24/7 learning.
Ofsted completed a monitoring visit of EDLounge Group Ltd in July 2019. The monitoring visit looked closely at our leadership team and recruitment, our commitment to meeting the needs of vulnerable adults, our commitment to developing learners' skills, our stringent safeguarding of young people and our high-quality specialist training. You can read the full Ofsted report here. Or view inserts below.
All our qualifications meet the skills, behaviours, attitudes and standards required by awarding bodies.
In 2022 we now focus on delivering a range of educational, assessment and teaching platforms.