Virtual Classroom
Our Virtual Classroom and online support system provides a great alternative provision for a range of your students which adheres to government safeguarding, well-being and supervision legislation. Within this provision you have a robust and comprehensive tool that not only your organisation to offers teaching and support, but also offers tutoring, assessment, pre-assessment, verification, and expertise in any subject for any age group for those doing core, academic or vocational courses.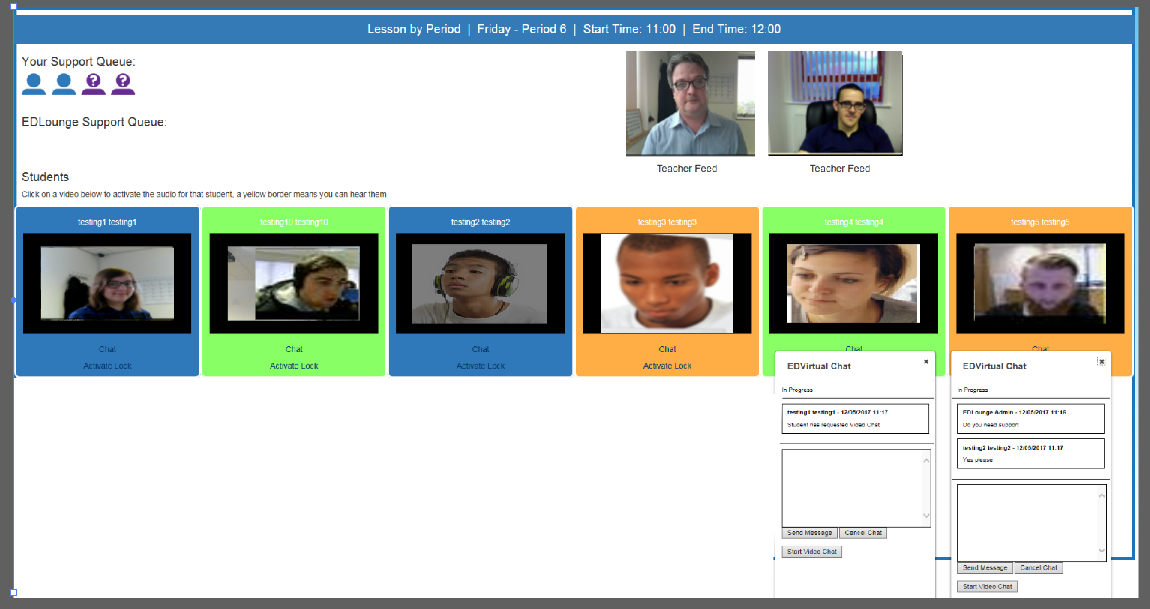 EDLounge launched EDVirtual (Our Virtual Classroom) in 2016 so that students and schools involved with EDLounge will have the internal capacity to benefit from this Virtual Classroom approach and support mechanism for reaching a range of students within and outside of school.EDVirtual has been created so that your establishments can target those hard to reach students, using your own staff, mentors and support staff (alongside EDLounge teaching staff) to educate learners in any situation. Our new virtual classrooms can help schools and centre's educate students who have difficulty attending a mainstream provision.
We provide a safe and secure learning environment for hard to reach students allowing them to achieve whilst offering educators our online platform and safeguarding tools. This will ensure each student reaches their full potential in a controlled and safe environment. Within our virtual classrooms, your staff, alongside EDLounge staff have the capability to educate your students on specific timetabled pathways via live video stream that is all recorded to safeguard your teachers, your school staff and your students. Learners follow a unique pathway for them and achieve support when they require it.
This facility will enable us and yourself to further support students and the needs of those involved with these individuals in furthering their education. The difference between this and our normal support is that there is more supervision used for the students learning off-site.
The Virtual Classroom enables you to :
view the students learning live via a secure server stream,
chat face to face,
view their learning progress,
view actual live answers
mentor students via a secure verbal chat or written chat
set a structured pathway for any individual
This approch can dramatically improve your students' attendance and achievement.
EDLounge can also offer teaching support for any organisation. Through this alternative provision partnership enables learning and attendance grades whilst learning through EDLounge can be achieved using our new and secure methodology for many classifications of students including:
Suspended
Anxiety students
Home educated
Distance learners
School phobic
In inclusion units
Students with Mental Health issues
One to one
Target groups
For those studying for a qualification
Students with low literacy/numeracy
Those submitting qualification coursework
We can offer support to any individual, whether they be on or off-site. All of our support officers are uniquely trained to have extensive knowledge and understanding of the EDLounge lessons, system, qualifications, methodology, exams, coursework and practical elements. An exclusive pre-assessment, assessment and feedback service is available for the students, which will help them understand, learn and progress through EDLounge.

To request a Demo of EDLounge please click here or fill in the contact form below