EDClass is a remote learning application designed to help break barriers to learning with online assistance from qualified EDLounge Support Officers and teachers using the personalised e-learning aspects.
EDClass + was developed with the Senior Leaders, Head Governor and CEO of the Rodillian Multi Academy Trust to educate all learners that were not attending the 6 schools within their trust at specific times and periods of the day.
Your staff and our staff work in partnership with your learners to give them support and assistance online whilst they follow a personalised learning pathway. At Rodillian their target was simple: educate all learners in their trust through an application, regardless of barriers they may experience.
EDClass+ is a combination of EDClass and EDVirtual (your staff using our Virtual Classroom platform). Within EDClass + our qualified teachers work with your teachers, using our virtual classrooms to educate learners. EDClass+ can enable you to make provision for all learners and combat staff timetable clashes and staff absences.
Your organisation can benefit from our qualified online staff supporting your off-site students, such as learners with mental health issues. Learners will benefit from qualified and experienced teachers using our tailor-made learning pathways to give the best learning opportunities that are available in a virtual learning environment.
Our unique safeguarding tools have been developed with these learners in mind to give educators the best opportunity to deliver lessons to off-site learners whilst monitoring their behaviour and safety. All virtual lessons can be streamed live for teacher viewing and are also recorded and automatically backed-up and saved to ensure safeguarding all round.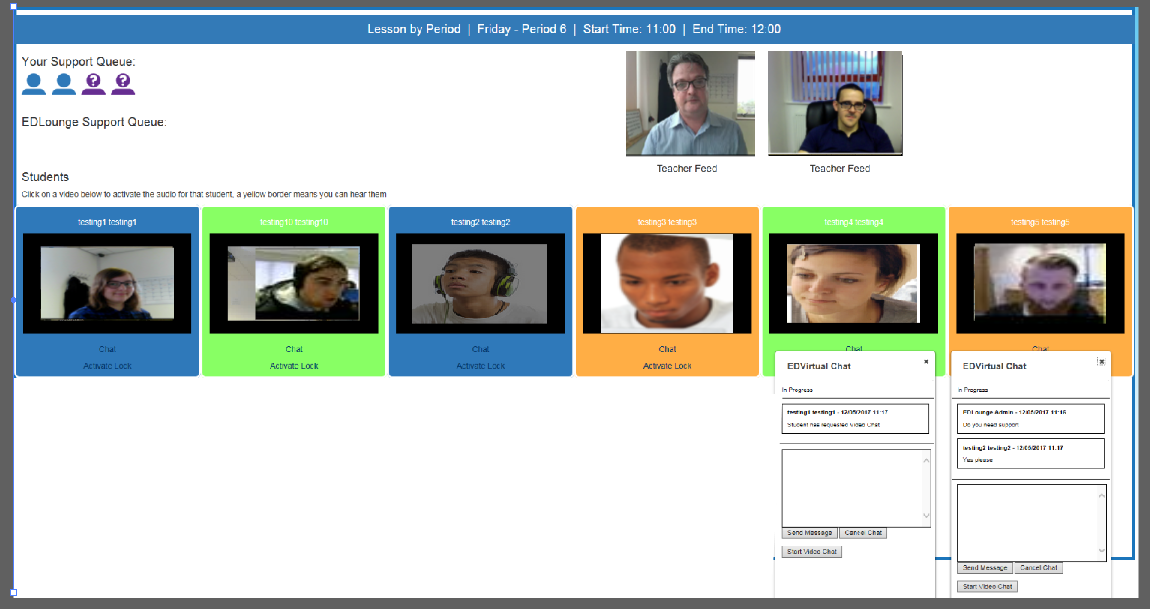 EDClass+ In-Depth Information
EDClass+ is a virtual, remote learning application, designed to help break barriers to learning, through personalised e-learning content via EDLounge and qualified teachers/tutors for online support. Our staff can be used to help disengaged learners gain knowledge for qualifications, to support teaching and learning through an online classroom and to work with learners individually to achieve their goals. They can also support your staff with the e-learning aspects and administration. Our teaching and admin staff will also personalise the learners' e-learning pathway (12000+ lessons, 2000+ learning pathways) ensuring each learner has a tailored learning experience to meet their needs.
Our unique safeguarding tools have been developed with off-site learning in mind, to ensure learner safety is paramount and the best that is available in an online learning environment. EDClass+ also has the facility to ensure staff can maintain constant contact with learners that are being educated off-site. Our teaching staff are available to the learner at the click of a button and will help guide learners through their lesson/work. The work learners complete will also be marked by EDLounge teachers. All video recordings are saved and sent directly to your IT technicians to store and back-up for data protection, child protection and safeguarding protocols.
The EDClass+ facility also ties the support teacher in EDLounge to the live virtual classroom that your staff can monitor. You can see everything with total transparency.
This short-term provision using our virtual classroom approach and support for reaching a range of learners in and outside school has been created so that establishments can target those hard-to-reach learners or those learners on the 6th day provision, using EDLounge English, Maths and Science teachers, mentors and support staff to educate learners in any situation.
EDClass+ can help schools and centres to educate learners who have difficulty attending a mainstream provision with immediate effect.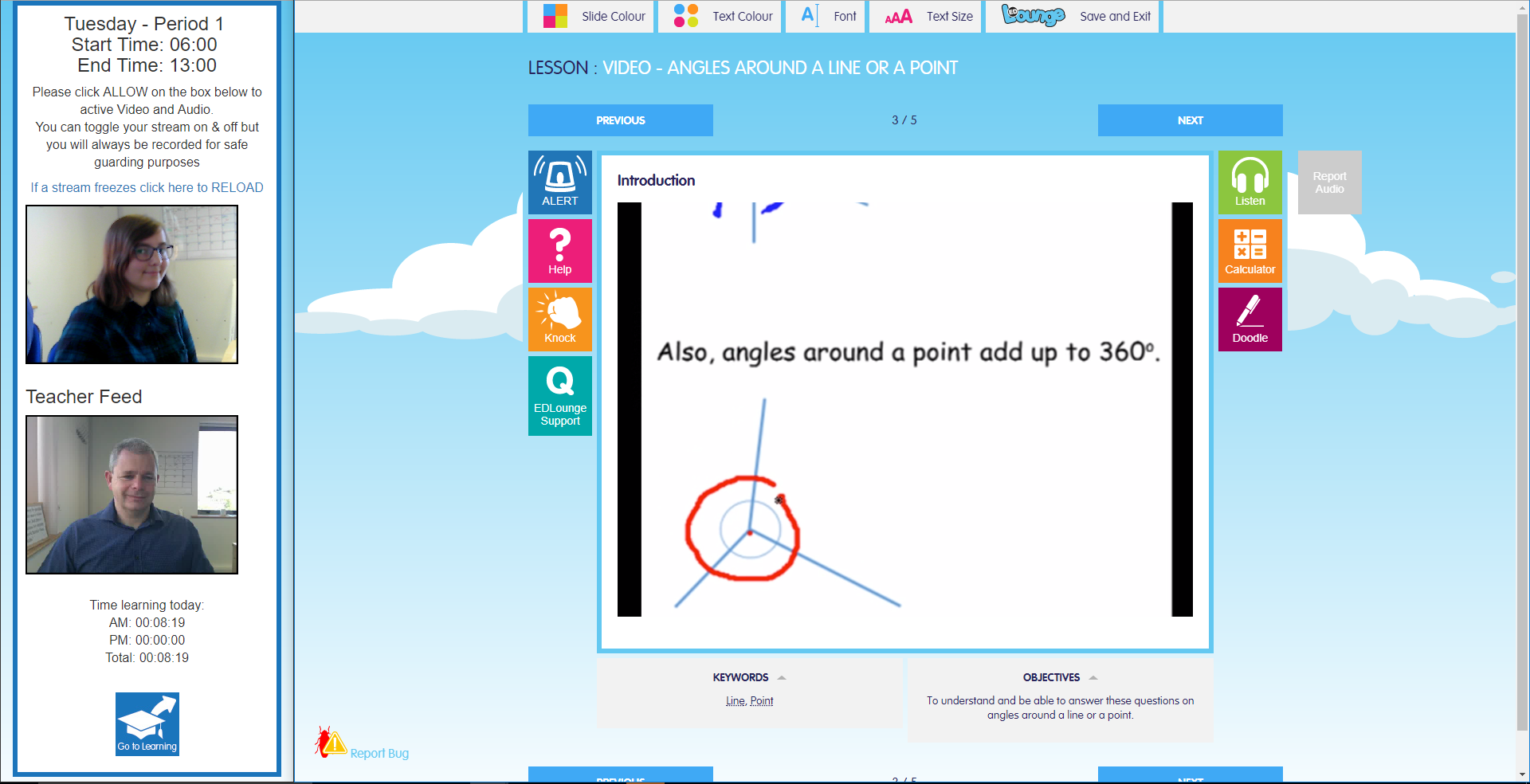 We provide a safe and secure learning environment for hard-to-reach learners allowing them to achieve whilst offering educators our online platform and safeguarding tools. This enables learners to reach their full potential in a controlled and safe environment. EDClass+ staff have the capability to educate learners on specific timetabled pathways via live video stream, all recorded to safeguard teachers, school staff and learners. Each learner follows a unique pathway and asks for support as they require it.
How the Rotation Works: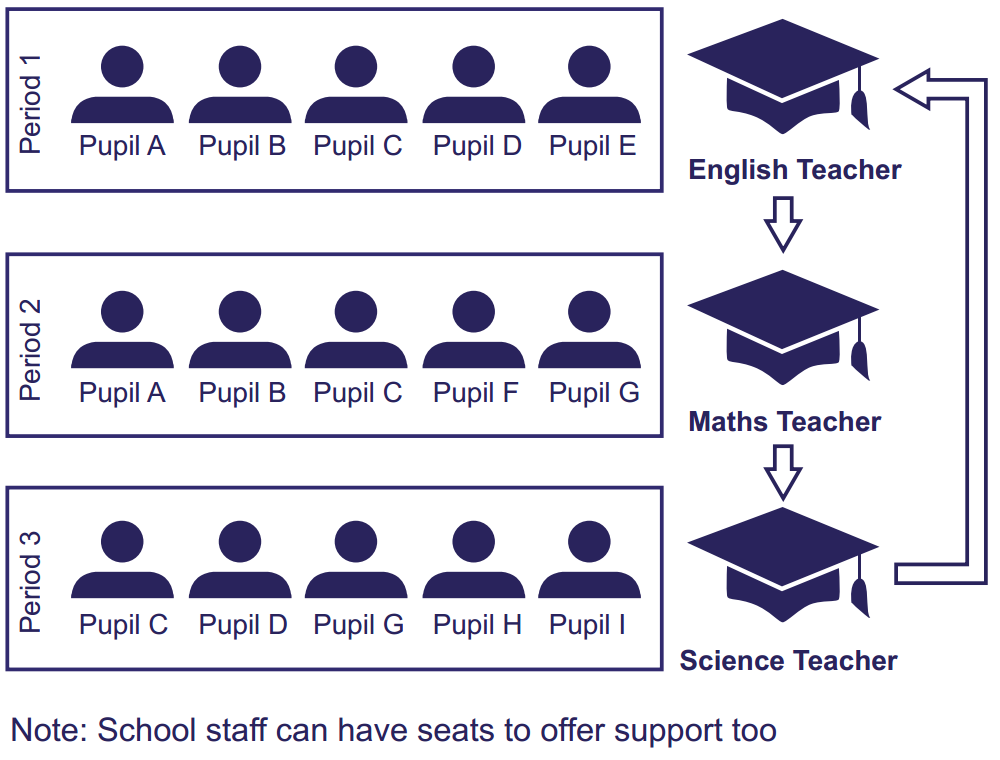 Technology Side:
EDClass+ enables staff supporting learners to teach face-to-face via our virtual platform.
You must complete the safeguarding visits and tailor the safeguarding questionnaires, but all written and verbal chats, live streams, alerts and learner responses/answers are recorded and backed-up as they are also paramount to the safeguarding process.
All virtual lessons can be streamed live for teacher/learner viewing and are also recorded and automatically backed-up and saved to ensure safeguarding all round.
Learners can ask for and receive help, feedback, comments and direction from our support staff/teachers, ensuring all learners can progress with EDLounge.
You and your staff can see the chats between teachers and learners live.
Learners activate a chat and virtual support at the click of a button whilst they learn.
Also, at the click of a button, a learner is taken to a lesson from their bespoke learning pathway. Learning time, idle time and chat times are recorded.
Files of recordings are encrypted and sent to the school every evening, once learning and the sessions have been completed.
All videos are automatically sent through via your FTP and stored in a folder for safeguarding. Every file is saved, encrypted and sent to the school.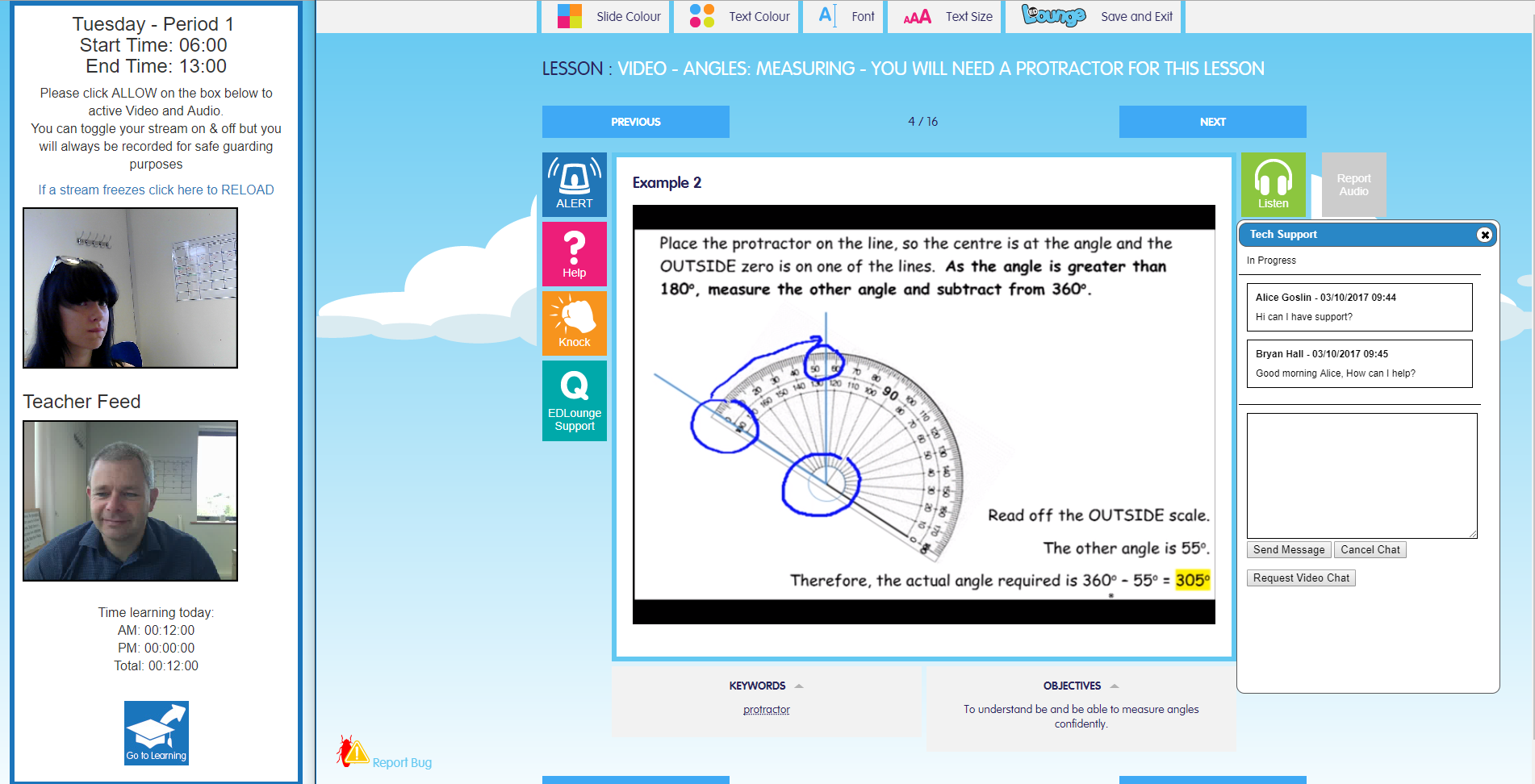 The Process
EDClass+ enables us to support learners more. there is more supervision of learners off-site.
We work with you so that you can:
see the learners as they work, live, via a secure server stream
chat face-to-face
view their learning progress, offer mentoring, support and assistance
view learners' answers/responses live
mentor learners via a secure verbal or written chat
set a structured and timetabled pathway for any learner so that mentors and different subject support workers can assist learners at specific times
This approach can dramatically improve learners' attendance and attainment; very important for learners with a short-term exclusion, 6th day provision or learners who may be school phobic, anxious or suffering from issues of mental health.
The Support
EDClass+ and our online support systems provide a great alternative provision for a range of learners which adheres to government safeguarding, well-being and supervision legislation.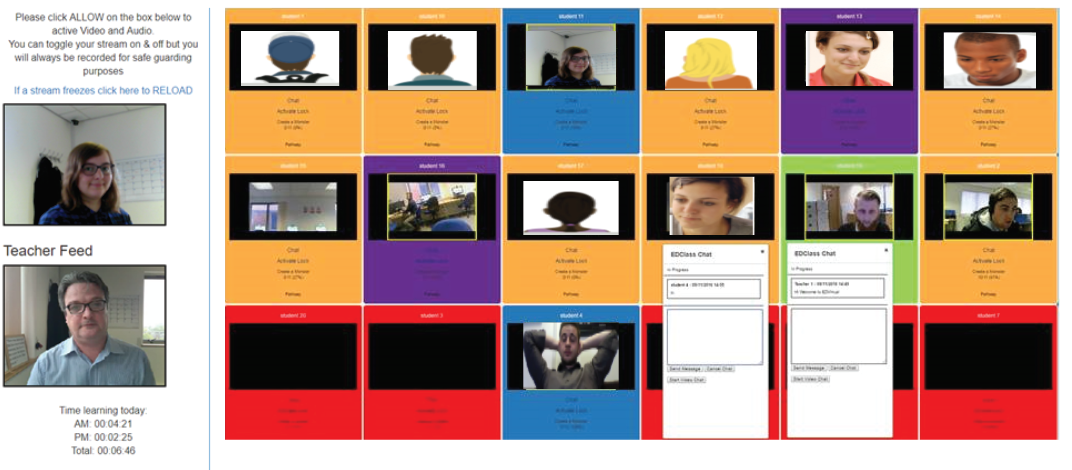 Our EDClass+ provision can enable you to claim attendance codes for many kinds of learners including:
short-term provision
6th day exclusion
learners who have/are being been suspended
home-educated learners
distance learners
learners who are school phobic
learners in inclusion units
learners with Mental Health issues
learners requiring one-to-one support
We can offer support to any individual, whether they be on or off-site. All our teachers and support staff are trained to have extensive knowledge and understanding of the EDLounge lessons, system and methodology. An exclusive pre-assessment, assessment and feedback service is available for learners, which will help them understand, learn and progress through EDLounge.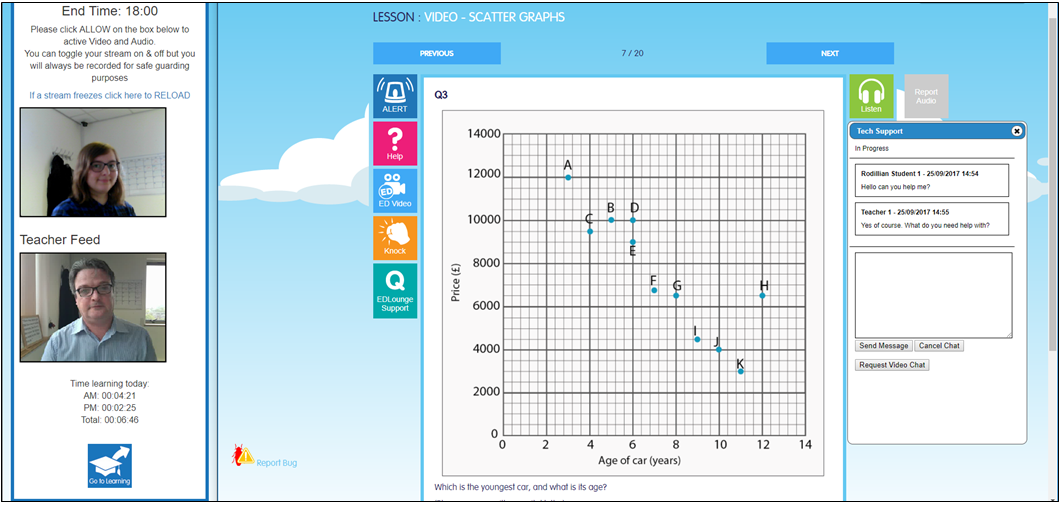 Benefits of EDClass+
With the government introducing or planning changes to budget, attendance policies, off-site learning, exclusion, inclusion and the alternative curriculum, it is becoming more important for educational establishments to implement systems that can; deliver these changes, accurately monitor and track progress in real-time and produce reports suitable for an Ofsted inspection.
EDLounge is an online learning, tracking and reporting platform that can help you:
dramatically improve your attendance levels
improve behaviour throughout the whole school
provide an inclusive alternative provision for your learners (we become one of your Alternative Providers)
create, track and monitor individualised learning pathways
provide behaviour repair work
access resources instantly in isolation, home education, excluded, on part-time timetable or those that are impacting your school attendance levels
develop a positive and inclusive learning environment for your learners
address the 3 levels of progress for your KS3 learners
access our 12000+ lessons
enhance KS4 performance scores
deliver content to any target groups
create a positive learning environment for Pupil Premium, alternative curriculum or off-site learners
enable any assessment policy (without levels) to be adhered to
encourage disaffected learners to take an active role in their own education through a rewards-based gaming/learning structure
A New Method of Virtual Teaching
Also, whilst cuts are being made everywhere under this air of uncertainty, EDClass+ can:
reduce costs of permanently excluding learners
save you the expense of sending learners to alternative provision
address how you deliver a personalised learning plan to your learners with mental health issues or those that are school phobic, refusers, non-attenders, teenage parents
offer supervised safeguarding
provide GCSE and Functional Skills content and timetabled sessions
We can house over 200 students now with the teacher-learner ratios 1 to 1, 1 to 10 or 1 to 12, 1 to 25 for English, Science and Maths or any other subject. Please call 01909 568 338 for more information or fill in your details to contact us for a free demonstartion and trial.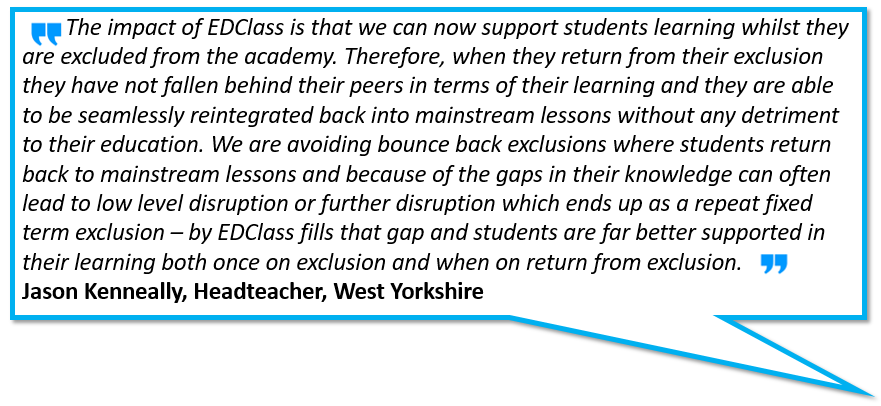 EDClass
EDClass was designed in 2014 with the help of Rodillian Multi Academy Trusts and is now used in over around 200 schools throughout the UK. It is an online learning platform that combines a bank of over 12000 lessons with EDClass teachers supporting your learners in an e-learning environment. Our unique safeguarding tools have been developed with off-site learners in mind to ensure learner safeguarding is paramount and the best that is available in an online learning environment. Our tutors and teachers are available to help your learners at the click of a button. Our tutors and teachers will help guide your learners through their pathways that have been individually devised for them (taking into account their ability and needs). The work your learners have completed will also be marked by EDLounge teachers.
Once a partner, we match your assessment policies to our system so everyone adheres to the same policies, procedures, rewards and sanctions.
To help learners gain qualifications, a range of practice/live /mock exams have been added to EDLounge so that learners are able to prepare themselves for, say, GCSE, BTEC or Functional Skills courses.​

To request a Demo of EDClass please click here or fill in the contact form below
We Accept: