EDClass
EDClass is a remote learning application designed to help break barriers to learning with online assistance through EDLounge qualified and assisted tutors using the personalised e-learning aspects.
What is EDClass?
EDClass offers academy students live tutorial support and distance learning provision through a robust, safeguarded and supervised online platform. Not only does EDClass comply with government legislation for both on- and off- site alternative provisions for academies, this unique platform also gives you the tools to improve attendance in your setting.
EDClass allows you to monitor and track the progress of your excluded children safely and securely online and help positively impact their learning and attendance.
Our experienced team can offer you and your establishment live online support for students who are in inclusion or have been excluded.
EDClass and EDClass + can dramatically improve your attendance and behaviour figures and reduce your isolation and exclusion statistics.
Our e-learning portfolio has grown so fast that there are now over 7,000 resources and lessons that can be used to educate students in alternative provisions. The creation of personalised and tailored pathways for individual students ensures that they remain in education. Following this structured pathway enables a student to learn, progress and succeed whilst simultaneously supporting you to defuse any situation or problem that occurs.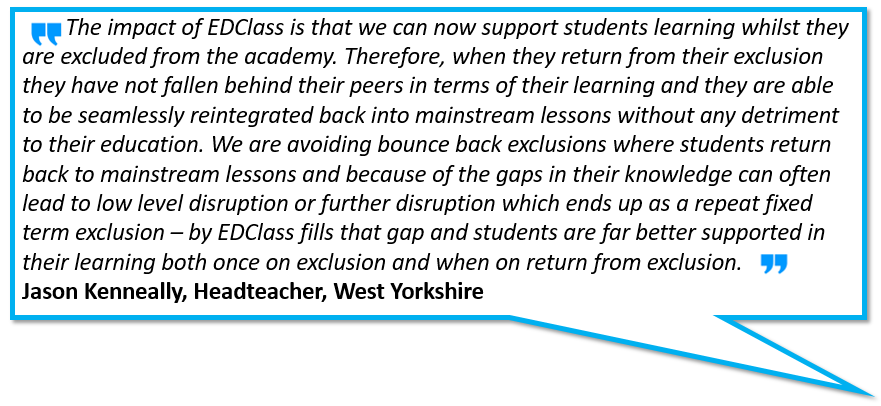 EDClass
EDClass was designed in 2014 with the help of Rodillian Multi Academy Trusts and is now used in over 50 schools throughout the UK. It is an online learning platform that combines a bank of over 7000 lessons with EDClass teachers supporting your students in an e-learning environment. Our unique safeguarding tools have been developed with students learning off-site in mind to ensure student safeguarding is paramount and the best that is available in an online learning environment. EDClass also has the facility to track off-site students meaning your facility can maintain constant contact with your off-site students. Our tutors are available to help your student at the click of a button. Our tutors will help guide your pupils through their pathways that have been individually allocated for them taking into account their current learning ability. The work your students have completed will also be marked by EDLounge teachers.
How EDClass works
Our online tutors and supervisors are uniquely trained to have a wealth of knowledge and understanding of the EDLounge lessons, system, qualifications, methodology, exams, coursework and practical elements.
By putting into place an exclusive pre-assessment, assessment and feedback service, students are able to progress and understand what is being taught and what they are being asked to do.
Once a partner, we also match your assessment policies to our system so everyone adheres to the same policies, procedures, rewards and sanctions.
To help students gain qualifications, a range of practice, live and mock exams have been added to EDLounge so that students are able to prepare themselves for the new next generation BTEC courses.
Students also receive live and online support from our teachers in any of the qualification subjects.
Our tutors provide support for students in exclusion, home education, isolation or in inclusion whilst they are on-site or off-site. Students can ask for and receive help, feedback, comments and direction from our support officers, meaning that all students can progress through EDLounge.
Ideal support for target groups
We offer a comprehensive support provision for students who are:
Excluded
Catch up
6th day provison
Short term provision
Having Mental Health issues
Home Educated
School Refusers
In inclusion units
In need of One to one sessions
Distance learners
Pupil premium
Target groups
Following an Alternative Curriculum
Doing Homework
Off site learners
Functional skills support and learning
De-motivated / disengaged Studying for a qualification
EAL / ESOL
Revision sessions
A level sessions
Pupil Premium category
Transition students with low literacy/numeracy
Submitting qualification coursework
Students undertaking the new Next Generation BTEC qualification
School Phobics
In Reintegration
In the Year 7 catch-up programme
Persistently absent
Long-term sick
​This system is also ideal for students who have low literacy/numeracy ability, school refusers and Pupil Premium individuals.

To request a Demo of EDLounge please click here or fill in the contact form below