Information and Creative Technology (NQF)
ICT @ Level 1 & 2 (Ext certificate) (NQF) 
QAN Code: 600 / 4789 / 6


The ICT courses we offer count towards your school's A* - C Performance scores.
ICT @ Level 1 & 2 (Extended certificate) (NQF) - 600 / 4789 / 6 (Through EDEXCEL)
The EDLounge system enables us to offer Information Technology qualifications for your establishment. It enables us to provide qualifications your new cohort of students who must follow the new Next Generation BTECs on the NQF framework.
Please note: These fall under the new NQF framework (from September 2013) for the headline measures in 2015 for Information and Creative Technology.
The following are the new units that are taught within EDLounge for Information Technology:
Unit 1 - The Online World
Unit 3 - A Digital Portfolio
Unit 8 - Mobile Apps Development
Unit 9 - Spreadsheet Development
Unit 10 - Database Development
Unit 13 - Website Development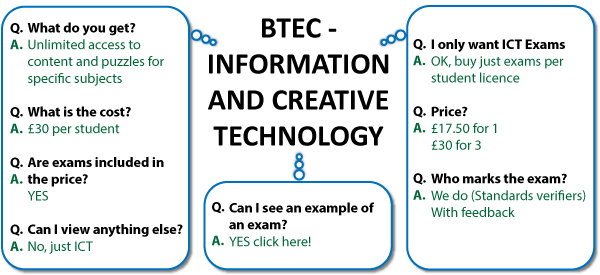 I.T Prices
| | | |
| --- | --- | --- |
| Qualification Type | With Centre Number | Without Centre Number |
| NQF Extended Certificate | £750 per Student | £825 per Student |
ICT Mock Exams Only package = Exams only (assessed, marked and with feedback)
1 exam

(per student) including marking

(£)

3 exams (full suite)

(per student) including marking

(£)

I.T

8.95

19.95
We can also offer your students practice Next Generation BTEC ICT exams online that can be used as revision, dummy exams, mock exams, or practice exams which could be taken under exam conditions; they can be live and turned on and off with just the touch of a button, allowing them to only be open within specific bespoke times for your establishment.
Please Note: If your organisation is NOT a registered centre, we can register the students for you and they will then follow our standards verification, quality review and assessment procedures

To request a Demo of EDLounge please click here or fill in the contact form below