Our remote learning and Virtual Classroom platform has a proven impact on a range of learners who can easily be placed into focus groups to:
Improve your provision for students with mental health issues
Increase attainment
Deliver school improvement
Achieve positive outcomes
Raise attainment
Improve behaviour
Reduce exclusions


We have introduced a facility where your staff, your mentors and your tutors can work with your learners using our online platform, lessons, content and our Virtual Classrooms. This is a perfect resource for students who are school refusers, demotivated, vulnerable, school phobic, long-term sick, distance learners and students who are struggling with mental health issues.

Your learners will benefit from being taught by your teachers - whom they know and trust - in our Virtual Classroom, using our online platform. You can personalise and tailor their learning to their specific needs and capabilities. Our unique safeguarding tools have been developed with these students in mind, to give educators the best opportunity to deliver lessons to off-site students whilst monitoring their behaviour and safety. All virtual lessons can be streamed live for teacher viewing and are also recorded, automatically backed up and exported daily to your establishment to ensure safeguarding all round.
EDLounge also incorporates 'live classroom tutoring' for any learner who is:
In a reintegration plan
Having mental health issues
Suffering with anxiety and depression
School refusing
Persistently absent
Short or long-term sick
Following an Alternative Curriculum
Vulnerable
Studying ESOL
Demotivated / disengaged
Excluded
In isolation
At risk
Attaining low levels of literacy or numeracy
Requiring catch-up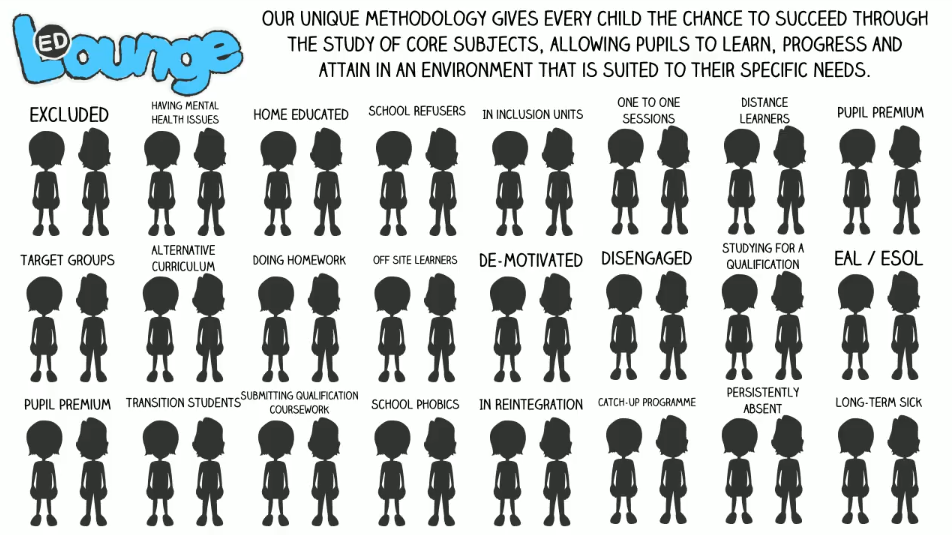 To request a Demo of EDClass please click here or fill in the contact form below
We Accept: