What is an Apprenticeship?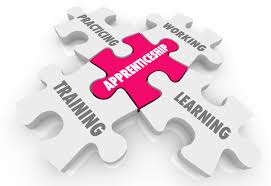 An apprenticeship is a genuine job and under all circumstances an apprentice will be employed from day one.
Apprenticeships combine practical training in a real working environment with study. An apprentice will:
work alongside experienced employed staff
gain 'on the job' specific practical skills
earn a wage and get holiday pay
be given 'off the job' time for competency-based study related to their role (the equivalent of one day a week)
What are apprenticeships standards?
Apprenticeship standards are employer-led, meaning that employers can specify exactly what is required from an apprentice in each specific role. Apprenticeship standards outline the skills, knowledge and behaviours required to carry out a certain job role. You can find a wide variety of apprenticeship standards on the Institute for Apprenticeships website.
What is an apprenticeship agreement?
An apprenticeship agreement is signed by the employer and apprentice before the start of the programme and outlines the key details about the apprenticeship. It is a legal requirement and acts as a contract of employment between the apprentice and employer.
What is an apprenticeship commitment statement?
The apprenticeship commitment statement is a contract signed by the employer, apprentice and training provider before the commencement of the programme. It is signed in the apprentice induction phase in conjunction with the apprenticeship agreement.
The document is a list of expectations from the learner, training provider, and employer, along with additional information about the programme. It records the commitment of all parties towards the fulfilment of the apprenticeship programme.
Functional Skills and Apprenticeships
Functional Skills are the basic literacy and numeracy skills that all people need to be able to operate confidently and successfully in work and life.
Functional Skills provide learning tools that enable apprentices to:
Apply their knowledge and understanding to everyday life
Engage competently and confidently with others

Solve problems in both familiar and unfamiliar situations
Develop personally and professionally
Functional Skills are a key component in all the apprenticeship standards.
Achieving a Functional Skills qualification demonstrates that an apprentice has all the skills they need in English and maths to be able to engage with their programme.
Depending on your GCSE grades and prior learning, you may be required to complete Functional Skills maths and/or English qualifications. These may form a part of your apprenticeship journey running alongside your work based apprenticeship programme.
For further information on EDLounge apprenticeships and apprenticeship vacancies, please email: apprenticeships@edlounge.com
Please note: COVID-19 remains a serious risk to health, so always follow the latest Government guidelines and stay safe!
EDLounge would like to thank the NHS and all the key workers for their ongoing hard work and commitment, providing urgent healthcare during the Coronavirus pandemic.