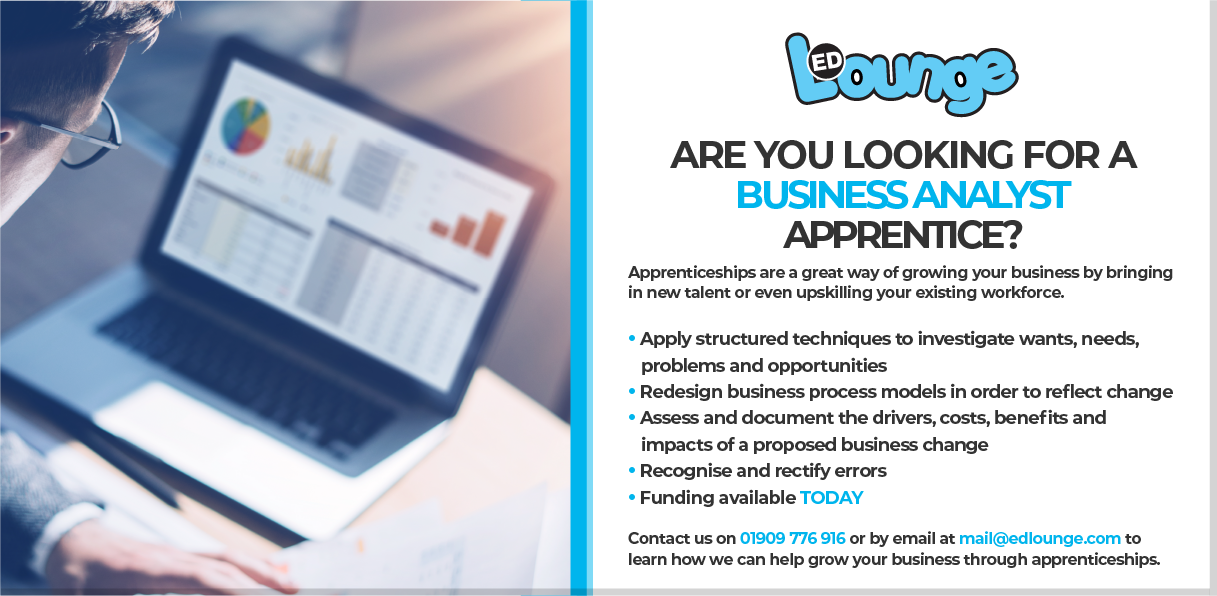 | | |
| --- | --- |
| Standard Number: | ST0117 |
| Qualification Level: | 4 |
| Course Duration: | 18 months + EPA |
| Qualification Achieved: | BCS, The Chartered Institute for IT for Register of IT Technicians (RITTech) Level 4 |
| Apprenticeship Category: | Digital |
Job Role
Business analysis exists in almost every sector, from not-for-profit organisations to retail and financial services. It's fast-paced and collaborative and provides a recognised career with professionals taking lead roles in successful change delivery.
Business Analysts document business problems and user needs, create solution requirements that align with best practices, and present them in a meaningful and logical way appropriate to the audience. Business Analysts manage stakeholder relationships, ensuring collaboration between business and technical stakeholders. By focusing on benefits and outcomes they ensure the right problems are solved and the right products are developed.
A common area of focus for the Business Analyst role is to model business processes and facilitate, coordinate and document requirements for the proposed business and IT changes.
Requirements
Apprentices without level 2 English and maths will need to achieve this level prior to taking the End-Point Assessment. For those with an education, health and care plan or a legacy statement, the apprenticeship's English and maths minimum requirement is Entry Level 3.
A British Sign Language (BSL) qualication is an alternative to the English qualification for those whose primary language is BSL.
Modules
| | |
| --- | --- |
| Module 1: | Business Process Modelling |
| Module 2: | Investigation Techniques |
| Module 3: | Engineering and Management Techniques |
| Module 4: | Data Modelling |
| Module 5: | Gap Analysis |
| Module 6: | Acceptance Testing |
| Module 7: | Stakeholder Analysis and Management |
| Module 8: | Data Impact Assessment |
| Module 9: | Data Recording and Sign Off Process |
| Module 10: | Communication |
| Module 11: | Tutor Support |
| Module 12: | Mock EPA/Overview |
Interested in learning more?
You can read more about this apprenticeship along with the standards here. If you are interested in the role, fill in the contact form below and we will be in touch with more information about what we have to offer.
Get in Touch