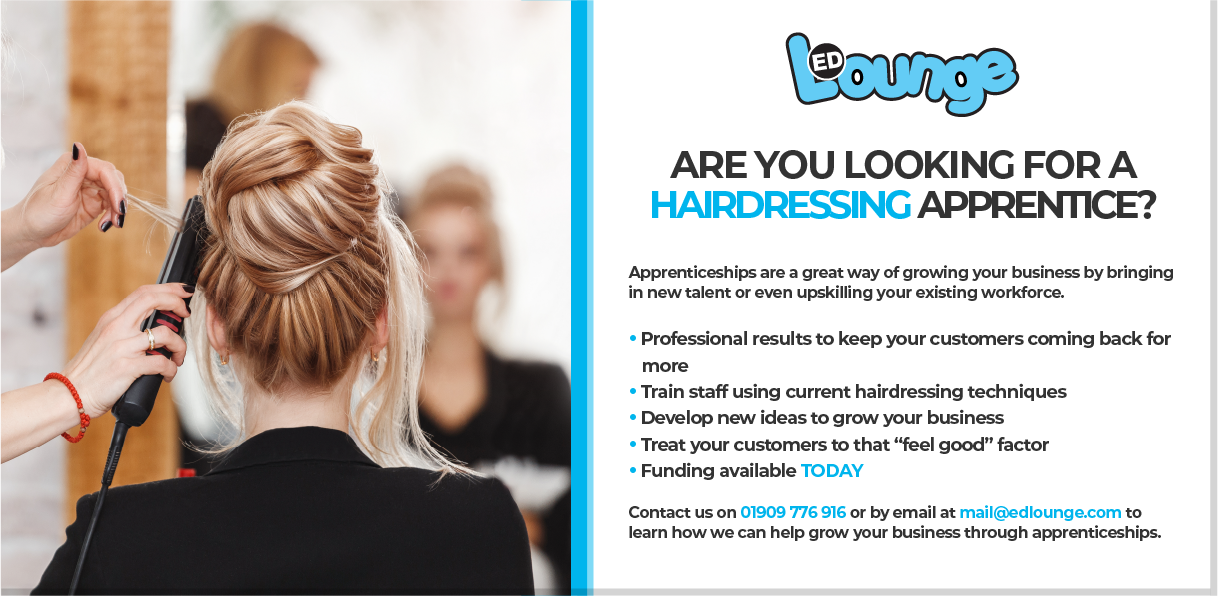 | | |
| --- | --- |
| Standard Number: | ST0214 |
| Qualification Level: | 3 |
| Course Duration: | 12 months + EPA |
| Qualification Achieved: | Level 3 Advanced and Creative Hair Professional |
| Apprenticeship Category: | Hair & Beauty |
Job Role
Advanced and Creative Hair Professionals are creative, passionate, and driven professionals who work without supervision, managing themselves and others when required. They provide a quality service, whilst working to the highest standards and continuously developing their personal and professional skills.
An Advanced and Creative Hair Professional works in the hair industry, which is one of the largest, most trusted and fashion forward professions. They take ownership of their work and client lists, accept responsibility, are proactive, flexible and adaptable, plan their work and time, they aim for excellence by taking exceptional pride in their work and industry.
The work environment can be varied in size, style and ambiance, from a bespoke salon, the media industry, cruise ships, product houses and manufacturers to luxury high-end hair salon. They are highly skilled and experienced individual professionals who deliver hair fashion forward trends, which are innovative styles inspired by current images and their own creativity, individual flair, imagination and interpretation.
Typical Job Roles:
Creative hair stylists, Advanced senior stylists, Senior hair professional or Specialist technicians
Requirements
Hair professional or equivalent qualification.
The apprentice must achieve level 2 English and maths prior to taking their end-point assessment. For those with an education, health and care plan or a legacy statement the apprenticeship's English and maths minimum requirement is Entry Level 3 and British Sign Language qualification is an alternative to English qualifications for whom this is their primary language.
Modules
| | |
| --- | --- |
| Module 1: | Researches fashion forward trends |
| Module 2: | Create a collection of hairstyle looks |
| Module 3: | Sectioning and cutting guidelines |
| Module 4: | Precision and personalised cutting techniques |
| Module 5: | Present a collection of hair looks |
| Module 6: | Client consultation |
| Module 7: | Smoothing and strengthening |
| Module 8: | Creative colour conversion |
| Module 9: | Advanced colour conversion (correction) |
| Module 10: | Products |
| Module 11: | Professional Development |
Interested in learning more?
You can read more about this apprenticeship along with the standards here. If you are interested in the role, fill in the contact form below and we will be in touch with more information about what we have to offer.