About EDLounge
EDLounge now delivers a high quality provision to learners remotely, in the classroom or over great distances where barriers to learning are broken down via an extensive range of innovative approaches. EDlounge has eight main elements:
1. EDLounge - Personalised Learning
Is a learning platform to help your students improve their outcomes through a personalised e-learning pathway
2. EDCLass and EDClass + - Remote Learning
Is a remote learning application designed to help break barriers to learning with assistance through EDLounge qualified and assisted live tutors
3. EDVirtual - Virtual Classroom
Is the Virtual Classroom which your staff can use to help disengaged students gain qualifications, attend an online classroom and achieve their goals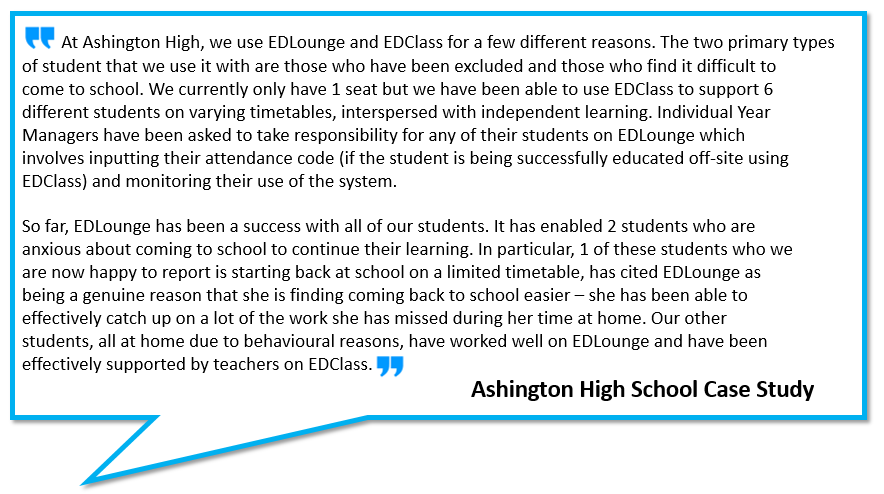 4. EDSimple - School Management Platform
The most comprehensive School Improvement Management Platform and Learning Environment. EDSimple will stream line your whole school practices. It has been exstensively added to by a few key Senior Leaders that have designed the system so that it is now a Whole School Management and Learning Solution for SLT and staff. It constantly evolves. We aim to make your lives easier with one solution all under one roof through the following areas: Today, EDLounge has over 8,000 lessons in core, foundation, vocational, and academic subjects. This powerful new tool can assist your school in the following areas:
Personalised Learning Pathways.
Customisable Assessment Framework.
Virtual Learning Environment.
Behaviour Tracker.
Behaviour Repair Tools & Resources.
Mock / Practice Exams (Academic and Vocational).
Exam Creator & Tracker.
Exclusion Avoidance Programme.
Structured Inclusion and Exclusion Resource Bank.
Live Attendance Data.
Bespoke CPD Management & Tracking Framework.
Integrated Child Protection & Well-Being CPD Courses.
Incident & Detention Tracking & Reporting.
Pupil Premium Management.
360º Homework Platform to Set, Monitor, Mark, Assess and Report.
Curriculum Builder, Including Alternative Curriculum Planning.
Social, Flipped & Blended Learning Resources.
Catch Up Learning Programmes.
Intervention Strategies.
Transition Management Programmes.
Low Literacy & Numeracy Programmes.
A Resource Bank Of Maths, English, MFL, Science, IT, PSHE, PE, Computer Science, Alternative Curriculum, Geography and History Lessons.
Access To Academic & Vocational Qualifications.
Functional Skills For English & Maths.
Careers, Employability Skills and CV Writing Resources.
A Virtual Learning Environment For Off-site Provision.
Student Tutoring & Mentoring.
Enhancing the provision for your Alternative Curriculum
Engaging and motivating vulnerable students
Raising attainment in A*-C performances and Value Added
Being accountable for pupils' progress through tracking learners' achievement
Creating bespoke learning pathways for individual students
Structured Timetabling.
Ofsted Inspection Report Creator.
School Email Network & Calendar Integration.
Secure Access To School Network Folders.
Rewards & House Points System.
Live Tracking For Lessons, Revision & Exam Sessions.
Text Messaging Service.
Subject Specific Quizzes & Puzzles.
Gamification.
Editable Content.
Teacher Cover Through Structured Lesson Plans.
Virtual Assemblies.
Web-based Parent Access For Monitoring & Assessment.
G & T Tracker.
5. Functional Skills support, content and exams
Within the portal there is extensive support, learning tools and resources for the functional skills learner regardless of age or ability
6. Apprenticeships, Traineeships and Adult Learning
We now can offer courses, advice and assistance for a range of traineeships, apprenticeships and adult learner as EDLounge is proudly now an approved training provider. All our qualifications match the skills, behaviours, standards and framework for each framework.
7. Home Educated and Remote learning
We can now offer tutoring, teaching and delivery for any academic subject required for any learner that is disengaged and disadvantaged.
8. International Platform
We can now offer our services to all students, teachers, admin and schools throughout the world especially those following the UK Curriculum and qualifications through our adaptable portal that has been customised and created by a few partner schools internationally.


To request a Demo of EDLounge please click here or fill in the contact form below