EDSIMPLE from EDLounge Ltd is the most comprehensive School Improvement Management Platform and Learning Environment.
EDSimple was designed to stream line your whole school practices, raise standards and increase whole school outcomes.
We have called it EDSimple because it is an EDucational School Improvement Management Platform & Learning Environment.
EDSIMPLE has been created with the help of the Rodillian Multi Academy Trust (Leeds) to produce a unique Whole School Management and Learning Solution. It has been developed in association with students, parents, teachers, exam officers, support staff, SLT, head governor, headteachers, and the Executive CEO to provide an innovative approach to assist all.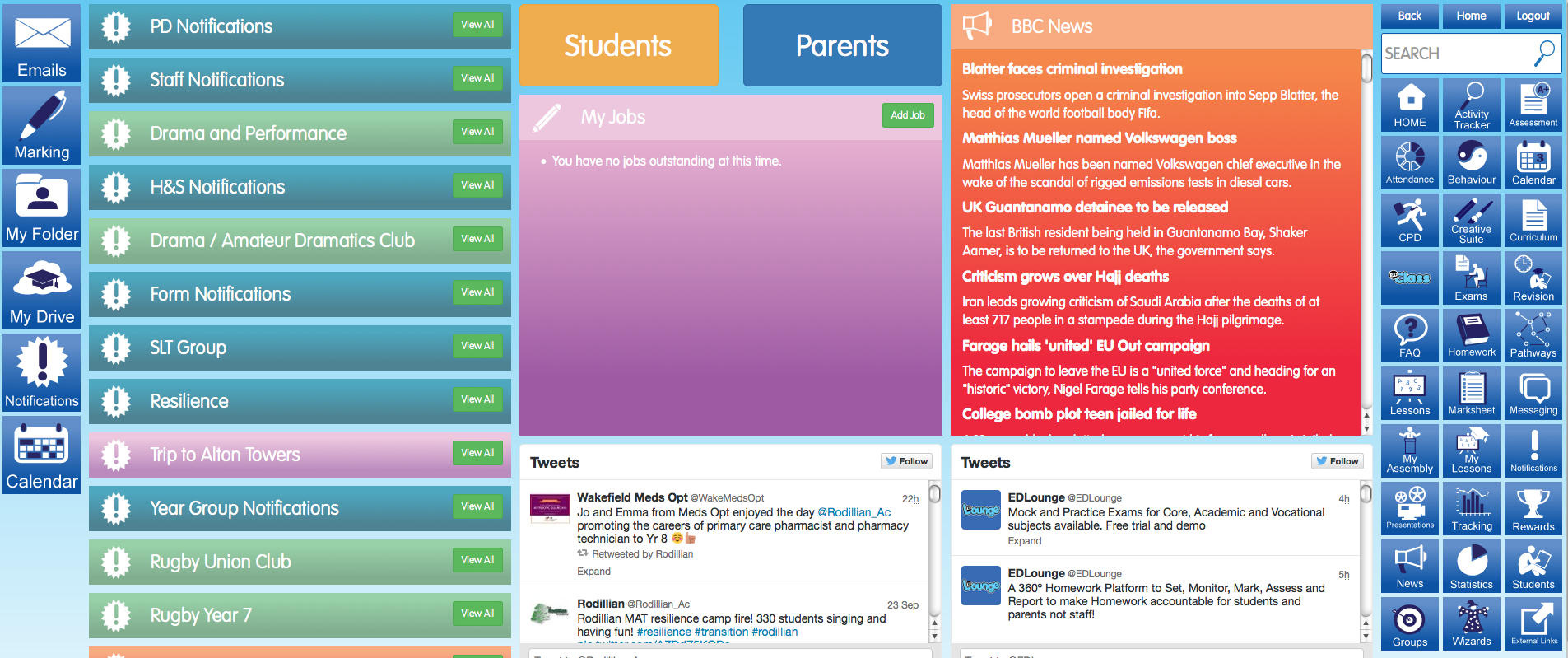 We aim to help your establishment in the following areas:
Learning
Personalised and structured for each individual regardless of ability
A Resource Bank Of Maths, English, MFL, Science, IT, PSHE, PE, Computer Science, Alternative Curriculum, Geography and History Lessons.
Cohorts for ability, SEN, target groups
A structured Individual, multiple, offsite or timetabled approach
Virtual tutoring, mentoring and assistance
Target tracking and monitoring
Instant feedback
Facility to do any level or tiered work
Literacy and Numeracy
Curriculum Builder
Social, Flipped & Blended learning for all
Deliver Catch up programmes
Intervention strategies
Tackles Transitional Issues
Boosts low Literacy and Numeracy programmes
Support
Student tutoring (via secure chat & verbal communication only) and mentoring
Virtual Classroom
EDCLass / EDVirtual / EDSuite
Personalised learning programmes
Individualised, structured or timetabled learning
Qualifications
Academic Qualifications
Vocational Qualifications
Functional Skills for English & Maths learning content
Functional Skills practice exams
Careers, employability skills and CV sections for all
Coursework & Assignment platform
Reporting
Inspection Ready Reports
Comprehensive and bespoke tracking, monitoring and reporting
Academic, vocational and behavioural reporting
Comparison charts, data and graphs
Attendance
Live tracking and attendance data
Alert for attendance
Parental reporting regarding attendance
B attendance for academies through a legal partnership
Content
8,000+ editable content
Personalised learning platform
KS1 – KS5 Compatible
Mapped to National Curriculum
Aligned to GCSE Specifications
Facilitates BTEC and Functional skills
Geared at both academic and vocational students
Core, academic and vocational content
Topic based quizzes, puzzles, games, and tasks to identify strengths and weaknesses
Improve Behaviour
Behaviour Tracker
Behaviour repair tools & resources
Incident hotspot Tracking & Reporting.
Detention / Isolation
Structured Inclusion and Isolation resource bank
Detention and Incident Tracker
Behaviour repair tools & resources
Exams
Mock / Practice Exams (Academic and Vocational)
Exam Preparation sessions
Exam Creator
Exam Tracker (paper & online formats compatible)
Timed exams
Baseline exams
Live Tracking for lessons and exam sessions
Inclusion / Exclusion
Reduces Exclusions
Exclusion Avoidance Programme.
Structured Inclusion and Exclusion resource bank
Alternative Curriculum
Become your Alternative Provider
Deliver an Off site provision
Content mapped to Core, academic and vocational curriculum
Support 24/7
Alternative Curriculum Planning
Revision
Online & Timed Revision sessions
Live tracking and monitor for Revision techniques
Revision techniques
Preparation methods and tools with sessions
Staff CPD
Staff CPD
Bespoke CPD Management & Tracking Framework.
Integrated Child Protection & Well-Being, CSE, Legal Highs, Alcohol Awareness and Drug Awareness CPD Courses.
Bespoke school specific CPD
Homework
360º Homework Platform to Set, Monitor, Mark, Assess and Report.
Assessment and Assessment without Levels
Tailor your Assessment per pupil, topic, cohort, target groups or across a whole school or Multi-academy Trust
Assessment without levels
Age related, master statement, comment based, or target based
Incorporates targets, predicted and actual tracking and analysis software
Reporting to parents, SLT and inspections
Rewards
Rewards & House points system
Department, teacher and whole school rewards
Create own Game Based Learning sessions
Gamification & fun for students
Gifted and Talented
G & T tracker
Analysis, Evaluation and Differentiated learning sessions for G&T and Extra Curricular students
Finally…. Our Platform is
Single Sign on
One file
Share folders within a Trust
Ofsted Inspection Report Creator.
School Email Network & Calendar Integration.
Secure Access To School Network Folders.
Email compatible (internal and external emails)
Internal notifications
Staff notices daily & weekly
Linked to personal, school, department calendar
Any device any anywhere
Cover resources
Virtual Assemblies
Virtual Presentations for post 16, Adult learners or parents
Provides an internal Text Messaging Service
Parental involvement
Parental literacy and numeracy links
Functional skills for parents
A Community learning link
Governors log ins
Multi academy statistics across the trust per learner, years, age, cohorts, to predicted targets and grades
Post 16 / Adult learning
All this is under one log in to save money, workload and time

To request a Demo of EDLounge please click here or fill in the contact form below
We Accept: