Home-Educated Students
The decision to home educate your child can be a hard one and can be made for many different reasons.

At EDLounge we continue to break barriers to learning and work closely with schools, parents and learners to achieve the best outcomes.
The business has grown because we listen. We are now going live with our home education package, which, we have insisted, at every stage from conception to trialling to delivery, is affordable.


Currently we run a school day from 9.00am till 5.00pm, with learners logging on and working flexibly in their own time (the school day may possibly be extended in future to work further with learners with chronic fatigue and mental health issues).
All of our lesson suites are accessible at all times. The 'School Day' is when our teachers are present and available on camera to give one-to-one support.
Subjects:
Functional Skills English (Entry Level 1, Entry Level 2, Entry Level 3, Level 1, Level 2)
Functional Skills Maths (Entry Level 1, Entry Level 2, Entry Level 3, Level 1, Level 2)
Functional Skills ICT
GCSE Maths
GCSE English Language
GCSE English Literature
GCSE History
GCSE ICT
iGCSEs are also covered
Learners taking exams directly with EDLounge Ltd. at the EDLounge Centre will be entered for Edexcel Pearson exams.
If sitting exams at a local School/Exam Centre we would need to know the establishment's chosen examination boards in order to set the correct lesson pathways.
We can add supported science lessons, however, we can't cover the practical side required for final exams.
LIFE Skills within our Independent Study tab cover:
Prevent
British Values
Resilience
PSHE
Citizenship
Career Skills
Drugs and Knife Crime
Gangs
With 10,000+ lessons this is a perfect resource to educate and qualify home-educated learners.
One-to-one sessions and personalised reintegration plans can be put in place so that every learner has a bespoke and personal 'Learning Pathway,' with milestones made achievable through our online support.

EDLounge Helps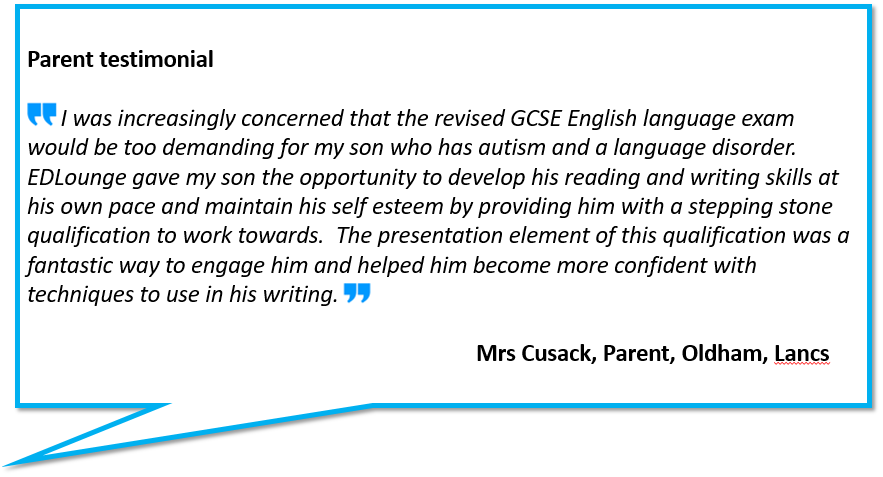 How we started working with children learning exclusively at home
In 2016, EDLounge Ltd. began work with a handful of students who were either resisting their education provision, or were expected to have the majority of their education take place at home, in libraries and drop-in centres, with a Care Worker, Outreach Worker or offsite teacher meeting their learners once every few weeks. This would be due to time restraints, staffing demands and funding.
We were contacted by Ash Khan, Deputy Head, from Sheffield Inclusion Centre, responsible for 70 plus students throughout Sheffield that his outreach workers could only see a few times a month. The following day, Jane Horsfield from the Engagement Team at Sheffield Inclusion, bought into the Virtual Classroom ideal and began to run the EDVirtual platform for her outreach cohort. There were significant benefits: the most significant being the system is safe. Firstly, the system allows for each learner to be set a unique, bespoke learning pathway, with drop-in sessions to work live with Jane and others, all recorded for safeguarding purposes. Secondly, the work and progress of each learner was tracked. The results were unreal: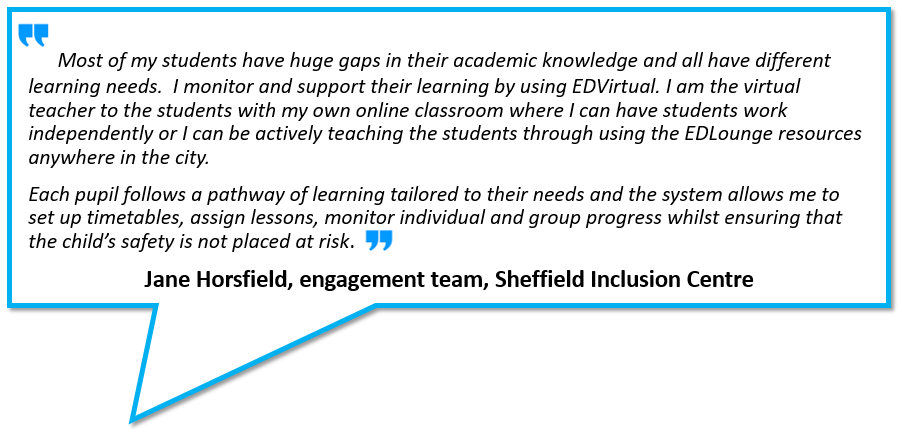 Using EDVirtual and EDClass+ has dramatically improved the education of a range of students. Our platform is ideal for PRUs, Multi-Academy Trusts and local councils to break down barriers for learners who are:
home-educated
school phobic
school refusers
anxious in school or a learning environment
struggling with mental health issues
persistently absent
long-term sick
teenage mums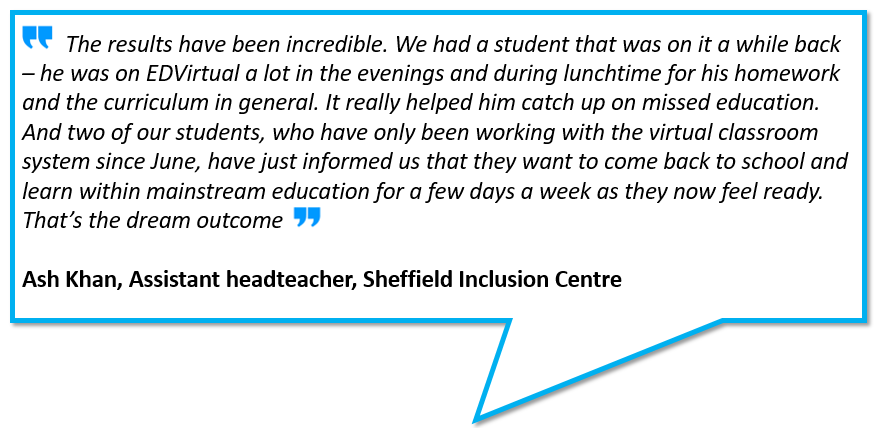 Via our portal, our qualified, professional staff have remote access to learners and offer teaching sessions and support lessons as part of learners' bespoke, unique learning pathways. Learners log in morning and afternoon to work through their personalised pathways with access to one-to-one teacher support. Barriers of time and cost have been removed.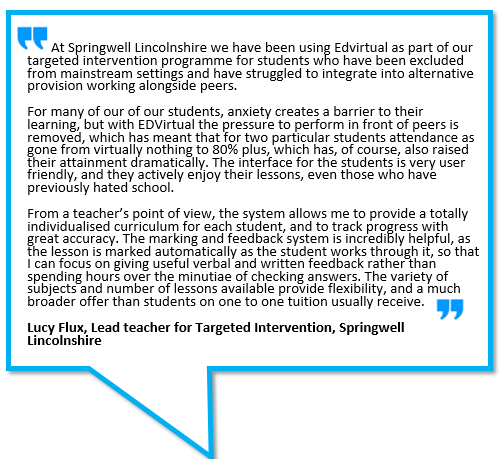 Please contact us on 01909 568 338 or complete the enquiry form and we will send you a video demonstrating the system and outlining the pricing guide, with a link to the online order form.

Price is a one-off set-up cost and the first month in the first instance and then monthly payments - no minimum subscription.

ENQUIRY FORM / PRiCE / PRODUCT VIDEO



To request a Demo of EDClass please click here or fill in the contact form below